Change IPSTAG
To change the IPSTAG for a domain name, you must select "Change IPSTAG" from the menu option next to the name you want to edit, see example below:

---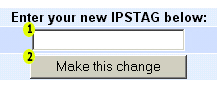 1. Enter the correct IPSTAG of the company you are moving the domain name to, make sure that you type in the correct IPSTAG with all Capital letters, once you move the domain name to another hosting or domain names company, your customer control panel at British NIC will no longer work for this domain name and we can not offer you any support for the domain name you are moving as it is no longer in our control.
2. Once you are sure you have put in the correct IPSTAG, press the "Make this change" button and the domain name will be moved for you.
The price quoted includes all registration fees for Nominet, domain server updates at Nominet, parking and re-delegation of TAG to another ISP's. You have nothing else to pay to secure your chosen domain name. Other services available on request. All prices inc. VAT - no hidden charges.