Modify DNS
To change your domains DNS, you must select "Modify DNS" from the menu option next to the name you want to edit, see example below:

---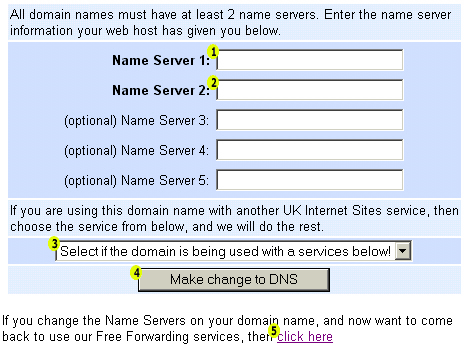 1. When you change the DNS for a domain name you must give 2, 1 in box 1 and 1 in box 2. The hosting company you are using will tell you what their name servers are, and you should put them in the order they give you. All hosting company's have 2 DNS as standard but some may have as many as 5.
2. This is where the 2nd name server would be listed, this is not an option, you must have 2 name servers listed in for your DNS on your domain name, the other name server boxes 3 to 5 are optional, but if you have them, use them.
3. (optional) If you are going to be using your domain name with one of the services run by UK Internet Sites Ltd. the people that own British NIC, then you would simply select the service from the drop down box and we will update the DNS automatic for you, you do not need to enter anything in box 1 or 2 if you select this option.
4. Once you have made you changes you must press the "Make changes to DNS" button.
5. (optional) If you have changed your domains DNS away to use with another hosting company, but now want to come back and use our free web and email forwarding service, you need to select this link and follow the prompt. Otherwise you do not need to use this link.
The price quoted includes all registration fees for Nominet, domain server updates at Nominet, parking and re-delegation of TAG to another ISP's. You have nothing else to pay to secure your chosen domain name. Other services available on request. All prices inc. VAT - no hidden charges.