Modify Holding Page
To start editing/updating your Holding Page, you must select "Holding Page" from the menu option next to the name you want to edit, see example below:

---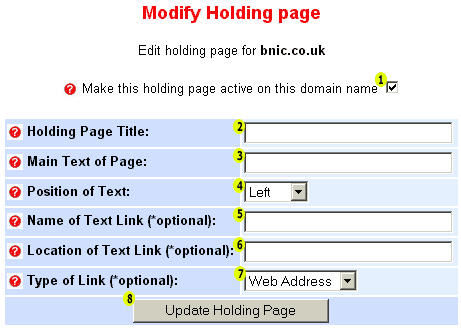 1. If you have "web forwarding" active at present, but want to now make your holding page active, you must make sure that box 1 has a tick in it.
2. This is what you want people to see in the top left hand side of your web browser, if you look up on the top right hand corner of this browser window you will see "British NIC - Handbook", you can type what ever you want here or leave it blank.
3. You type what test people will see on your holding page here, this could be anything from "This site is under construction" to "this domain is for sale, email me for details" the choice is yours, you can type as much as you need to say here.
4. You have 3 choices here; Left, Center and Right. Left is default choice and will show your text starting from the left hand side, Center will make it show, all coming from the centre of the page and right will show it starting from the right. Most people will use Left, as it looks better with lots of text.
5. (optional) Boxes 5, 6 & 7 are all linked in that you can leave them all blank, however if you want to add something, you need to update all 3 boxes at the same time. Box 5 is where you put the name you want people to see on screen for your web or email link.
6. (optional) You need to put in a web address or email address here. It is important that you get this part right, if you put in a web address it must be the full "http://" address, example htpp://www.britishnic.com/ and then in box 7 select "Web Address" from the drop down box. If it's an email address you need to put in the full address, for example test@bnic.co.uk and then select "Email Address" in box 7.
7. (optional) You have 2 choices here, "Web Address" and "Email Address", whatever you put in box 6 will be what you need to select here, "Web Address" or "Email Address".
8. Once you have made all your changes to the boxes above, press "Update Holding Page" and it will take instant effect.
The price quoted includes all registration fees for Nominet, domain server updates at Nominet, parking and re-delegation of TAG to another ISP's. You have nothing else to pay to secure your chosen domain name. Other services available on request. All prices inc. VAT - no hidden charges.